**This post contains affiliate links and I will be compensated if you make a purchase after clicking through my links. As an Amazon Associate I earn from qualifying purchases.
Opinions expressed are based on the Author's own experience.
Every year I like to honor the top digital products photographers can use to grow their businesses. Below are 13 go-to items for this year ranging from software to presets to training. This post includes affiliate links.
Best Photo Editor
Luminar 4
Luminar 4 is a program that you can tailor to multiple photographic styles. Available for both Windows and Mac, the software supports cleaner gradients and automatic lens distortion corrections.
It comes with new camera profiles like vivid, Adobe standard, landscape, portrait, and more. The most recent update of Luminar promises improvements in speed across both Windows and Mac.
Best Lightroom Presets
Contrastly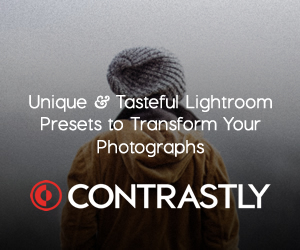 The Contrastly complete preset bundle comes with over 1,000 presets with 26 different themes like Long Exposure, Portrait Retouch, Infrared Sims, and many more. From recovering shadows and highlights to adjusting exposure, this set of presets will help you create the final product you envision.
Most photographers realize that taking the photos is only the beginning and that editing is an art form in itself.
With this Contrastly Lightroom preset bundle, you can bleach your images a bit, adjust the foreground exposure, and enhance group photos.
Learn More about the Lightroom Preset Bundle
Contrastly also offers Lightroom Training. Learn more about the Lightroom Mastery Video Course.
Best Contracts
The Law Tog
Ultimate Portrait Photography Contract Bundle by TheLawTog
The Ultimate Portrait Photography Contract Bundle helps you protect your business with lawyer/photographer-created contracts. This includes legal forms you'll need to cover expectations for clients and safeguard your business.
The Ultimate Bundle has a Print Release form, Limited Model Release, General Model Release, General Portrait Contract, Permission to Sell to a Third Party and a Payment Plan Bundle. TheLawTog also offers the Basic Contract and the Essentials Bundle for people who need a little less.
Start Protecting Your Business
Best Album Software
Fundy Designer was created by Andrew Funderburg and runs on both Mac OS and Windows. To use it, just go to fundydesigner.com, download the trial and install it. If you get stuck at any point, there are multiple online tutorials to help you get the process started.
As soon as you're ready to go, buy a license that fits your needs, such as Studio Suite Pro, Suite Pro, or Suite Lite. This software is well-designed and allows you to begin designing in one out of four modules: Gallery, Album, Image Brander, or Collage. In order to use photos in your project, just drag them from your computer's images bar. This program is super intuitive and easy to use.
Best Logo Design
99 Designs
Launch a logo design contest with 99Designs
While there are a lot of free options on the web for graphic design, you'll want something a bit more specialized for logo design. This can mean the difference between being lost in the sea of competitors online and truly standing out. 99Designs is a creative platform that allows you to hire talented designers to make your logo.
You can also start a design contest to get your graphic designs needs met, including custom WordPress themes or even book covers. You get to set your budget, receive ideas for a couple of days, and then make your selection.
Hire Someone to Create Your Logo at 99Designs
Best Training
Creative Live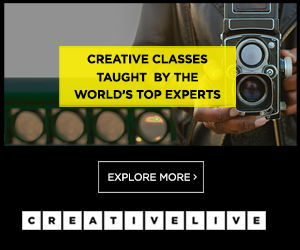 Fundamentals of Photography
To be truly successful with photography, you'll need a full understanding of the equipment needed and the technical aspects of your camera. The Fundamentals of Digital Photography will even show you how to make your creative vision a reality. Taught by John Greengo, a seasoned photographer, this training course emphasizes high-quality visuals and learning through experience.
The course will show you how to choose gear, how to properly utilize natural light, and how to make the most of composition, aperture, and shutter speed. With the Fundamentals of Digital Photography, you'll learn to consider your ultimate goals and motivations with photography.
Learn more about this course.
Other Courses Offered at CreativeLive
CreativeLive offers classes on photo and video, money and life, art and design, and more. Here are a couple of other courses available:
Workflow, Time Management, and Productivity for Creatives
There's a stereotype that says creative types are inherently disorganized, which can hold you back from getting into a good workflow. With the Workflow, Time Management, and Productivity for Creatives course, you can tackle your to-do lists, learn how to block out time, and beat your distractions.
Conquering Crappy Light
Working with subpar lighting can be frustrating. Since you can't always control the light where you are, it's helpful to learn how to work with it. In the Conquering Crappy Light course, you'll learn how to capture beautiful photos regardless of the lighting conditions.
Free Courses at CreativeLive
CreativeLive also offers free courses like this Make Great Images with the Gear You've Got course.
Check out more free courses from CreativeLive
Best Deal Site
PhotoWhoa
If you want to become a better photographer, the products offered by PhotoWhoa can help. This online curation site gives you access to courses, books, and more, whether you're a fashion blogger, food photographer, or a complete newbie.
A few examples of what they offer are 2665 Light Leak Overlays, a Photoshop Compositing Bundle, and software for easy image refocusing.
PhotoWhoa offers discounted photography products, with some eBooks or video courses marked down as much as 50 percent. Whatever your photography goals are, you're sure to find something that will help on this site.
Best Image Enhancement
Photolemur
Photolemur is a completely automatic enhancer for your photos and uses Artificial Intelligence to fix your pictures on its own.
Just import the image and the enhancer does the rest.
You can then define how your photos will look when they're done and control the applied enhancement opacity using the smart slider feature in the program.
Photolemur 3 has a Facial Retouch tool that can improve the look of faces and six unique styles for perfecting your photos. While there is a free version of Photolemur available, it doesn't offer batch processing and adds a Photolemur watermark to processed photos.
Best Used Gear
KEH Camera
While you're collecting your photography gear, don't forget that you can buy used gear and also trade your used equipment.
Sources like KEH Camera, the largest used camera dealer in the world, are invaluable to creative professionals.
They have lenses and cameras from 60 years ago and have been serving photographers for over three decades.
They also have a full-line equipment repair department.
Check Out the Selection at KEH Camera
Best Podcast
ProPhotographerJourney Podcast
Chamira Young is a photographer who is obsessed with creativity and productivity. She uses podcasting and online teaching to help others learn how to reach their goals effectively. The ProPhotographerJourney Podcast lets you learn the craft from professionals as they explain what worked for them and what didn't. Through this platform, you get access to tricks and tips from award-winning and successful photographers.
You can also check out the Portrait Party Success Kit offered by ProPhotographerJourney.com. Through this kit, you'll learn how to gain clients, income, credibility, and testimonials for your business.
Check out our article about hosting your own portrait party.
Learn more about the Portrait Party Success Kit at prophotographerjourney.com.
Best Planner and Workflow
Although we often start out with the most productive of intentions, it's easy to lose track of time. If you need help with time management, workflow, and planning, consider one of these tools.
Design Aglow Organization Help
The Big Picture Essential Planner will help you reach your larger creative goals by prioritizing your daily and weekly goals. This planner comes with more than 40 printable PDF pages, a 16-page guide for achieving your goals, cover options, planning worksheets, and much more. You'll also get social and blog trackers, section cover pages, and planner sections for finances, inspiration, marketing, and more.
Essential Workflow & Organization Bundle
Every photographer has to deal with paperwork and scheduling, even though they really want to be out there snapping photos. You can automate these administrative processes using the Essential Workflow & Organization Bundle by Design Aglow. This comes with a Studio Workflow Assistant for systematizing your routine. It also has the Studio Email Assistant for communications and a process to simplify your invoicing process, the Studio Order Form.
Best Photography Business Book
Photography Business Secrets
Photography Business Secrets: The Savvy Photographer's Guide to Sales, Marketing, and More
Photography is undoubtedly a competitive field with over 150,000 professionals already in business in America. Whether you're a beginner or a seasoned photographer, staying relevant in a sea of competitors is worth thinking about.
In Photography Business Secrets, Lara White has gathered some of the best advice from Photomint.com, her popular photography site. The book will help you with defining policies, establishing your name, marketing, networking, setting prices, and more.
Learn more about Photography Business Secrets
Best Photography Website Hosting
Imagely
If you're looking for a turnkey solution, Imagely offers a fully managed system that's easy to change and manage. You can set up a new website in mere minutes with a free initial account that includes pre-configured and pre-loaded themes and plugins.
Note that there is limited storage space on free accounts but that you may upgrade to get access to extra storage and a custom domain.
As you can see, there's no shortage of resources to make good photographers better and transform great photographers into seasoned professionals.